Tour schedules are as follows:
Tour schedules are as follows:
History Cruise: (hoping to start by July 1)
Tue – Sat, 2:45 pm, June-August
Thu – Sat, 2:45 PM, September (subject to change)
Departs from the water taxi dock at 3rd Street
$10 per person
Additional departures available for parties of 5 or more.
Check either "Pentwater Water Taxi," or "Pentwater Historical Society Museum" pages on Facebook for more info.
Architectural Walking Tours:
Thursdays: 10:30am, July 7 – August 11
Departs from the museum, 1st and Rutledge
History on the Green:
Fridays, 11am, June – August (except July 9)
Convenes on the Village Green near the storage shed, 245 S. Hancock St.
History on Hancock:
Saturdays, 11am, June – August
Departs from the Village Marina parking lot, 6th and Hancock
Check our website or Facebook page for up-to-date schedules and more details
www.pentwaterhistoricalsociety.org.
Email phs.tours@pentwaterhistoricalsociety.org with questions.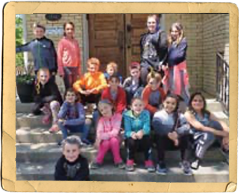 The Pentwater Historical Society, founded in 1982, was created to preserve and share the history and heritage of Pentwater and its citizens. The Museum's Grand Opening at its current location was held on May 31, 2014.
Come for a Day. A Week. A Life. Discover Pentwater and the local Pentwater Historical Museum! Experience the interactive displays, research our archives and view exhibits from the distant past as well as exhibits that reflect history as it is being created today.
Our Museum Features

Guide by Cell provides narration for the many displays we have in the museum
The recorded narratives are each about a minute in length, and include some interesting anecdotes about Pentwater, its people and landmarks.
Just dial (231) 720-0291 to listen to recorded narratives that explain various exhibits/artifacts that are on display at our museum.  Find out more about this fun interactive part of the Pentwater Historical Society Museum.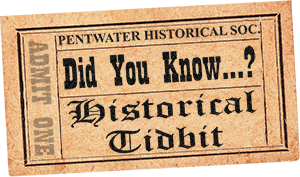 What is the history of the Pentwater harbor?
In 1868, the Federal Government began a 20-year project to provide a wider, deeper channel than Charles Mears had been able to achieve since he built his "river" in 1855. A lighthouse was built on the south pier with a catwalk leading to it so that the keeper could tend the oil lamp. A life saving station was built on the north pier in 1887. Visitors could watch the crew's weekly drills.
Many rescues are credited to the station. In 1915 the Coast Guard took over. Operations continued at various levels until 1958 when the station site was cleared. Only the flag tower, on which flags and lights warned vessels on the lake of dangerous weather, remains. The historic piers are now public promenades. The station site is a park. The piers are listed in the National Register of Historic Places.