Summer Dinner – August 23, 2023
---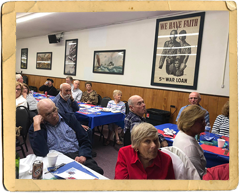 All members are invited to enjoy a night of food and fellowship. Each dinner features a special guest speaker with an exciting presentation about the history of Pentwater or the surrounding area. Past topics have included: Armistice Day, Icebreaker Ships and Songs of Lake Michigan. Our topic on August 23 is "Michigan's Haunted Lighthouses," by Dianna Stampfler, a author, and a popular Michigan speaker.
Dinner will be catered by Gloria Ann's Catering, and will offer pork, poultry, and vegetarian entrees.  Dessert will be provided by Roxanne Frame, a Pentwater baker.
Tickets are $30, and may be purchased in town or online.
Buy online here: https://secure.lglforms.com/form_engine/s/2G-sRkSmpF5iW4KdmSD1ig
The August 23 dinner will be hosted at the AgBio research center, 5185 N. Oceana Drive, Hart, MI.
5:30 social dinner
6:00 dinner service
7:00 program
Community-Wide Garage Sale

---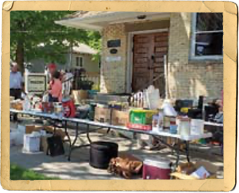 The Pentwater Historical Society Museum participates in the Community-Wide Garage Sale each year. PHS takes donations of any kind, so do your spring cleaning and forget about the hassle of setting up and pricing and leave it to PHS! Drop off your gently loved treasures to the PHS and we will do the rest! All proceeds go to the upkeep and maintenance of the Museum. The Community-Wide Garage Sale occurs each year in early June. (Please note: We do not accept couches, pillows, bed linens, or clothes.)
Homecoming Parade
---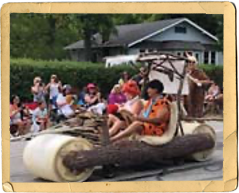 Join the Pentwater Historical Society in the annual Homecoming Parade! Be a part of the design team, walking team, or cheer from the crowd! The Annual Homecoming Parade occurs the second weekend in August.
Summer Dinner

---
This dinner is held the fourth Wednesday of August before Labor Day each year. All members are invited to enjoy a night of food and fellowship. Each dinner features a special guest speaker or an exciting presentation about the history of Pentwater or the surrounding area. Past events have included: Pure Michigan, SS Jarvis Lord Shipwreck and Shipwrecks of the Great Lakes.
Hancock History Audio Tour
For Immediate Release, April 29, 2023
Contact – Ron Beeber 313.498.0155
 TAKE THE HANCOCK HISTORY SELF-GUIDED AUDIO TOUR
Would you like an easy way to reminisce, or expand your knowledge about Pentwater history?  The Pentwater Historical Society (PHS) is pleased to announce the new Hancock History Self-Guided Audio Tour.  It's free, and easily accessed on one's cell or hardline telephone simply by dialing 231.720.0291, and following the prompts.
Each of the six audio narratives runs between five and nine minutes.  They describe some of the history that occurred on six blocks of Hancock Street – the 500 block between Fifth and Sixth streets, 400 block, 300 block, 200 block, 100 block, and the block between Lowell and First.  As weather improves, each narrative might best be enjoyed while sitting in front of the Village Marina, water tower, Chamber of Commerce, Village Green, Hancock Building, Cosmic Candy, Village Hall, and Methodist Church.  There, residents and visitors can imagine Pentwater's early days as they listen on cellphones, perhaps through an earpiece while sipping a beverage.
One can listen to all six narratives in succession, starting at the Village Marina and entering 500 + pound, either while strolling along Hancock Street or sitting on a bench.  Just follow the prompts.  It's perfect for dog walkers.  Or, one can access individual recordings anytime, like while sitting on a bench waiting for a shopper, or just people-watching.  Simply enter 5-0-0-pound (# KEY) to learn some history about the 500 Block of Hancock, 4-0-0-pound for some history about the 400 block, and so forth.  To learn some history between Lowell and First streets, one must enter 9-9-pound.
"It was fascinatin
g to compile and record these narratives over the winter," said Ron Beeber, a PHS volunteer docent.  "A lot of the content is drawn from past issues of PHS newsletters that are posted on the pentwaterhistoricalsociety.org Website under the Research heading.  Some landmarks had to be located by matching content to historic photos of the Village."
The content heard in these six recordings is just the tip of the iceberg of what's known about Hancock Street's history.  The PHS hopes this Self-Guided Audio Tour will trigger many Pentwater me
mories, and that listeners will post some on the Pentwater Historical Society Museum's Facebook page.  What a treasure trove of memories!
The idea for sharing Hancock Street history this way was inspired by Mary Schumaker's suggestion a few years ago that the PHS offer docent-led tours along Hancock Street during the holiday shopping season.  It would build upon the popularity of the summertime History Cruise on Pentwater Lake.  PHS trustees Bart Zachrich and Beth Russell conducted a few strolls, but encountered some real wintry weather.  Then, two years ago, a few docent-led tours were offered on already-busy summer Saturday mornings.  So the Historical Society hopes this Self-Guided Audio Tour proves to be more convenient.  One can just add 231.720.0291 to their cellphone "Contacts" — labeled as "PHS" — and listen anytime, from anywhere – the street, car, or one's home.

Tour schedules are as follows:
Tour schedules are as follows:
Rates for our 1-hour History and Sunset cruises in 2023 are as follows:
Sunset Cruise:  $20 per passenger, ages 3-103 (boarding 35 minutes before sunset)
History Cruise:  $15 per adult, (boarding at 2:45PM and departure immediately thereafter)
History Cruise: Children ages 3-12 no charge, but reservation is required at ptwxtaxi.com to reserve the seats. Maximum two(2) children per paying adult.
All cruises, kids 0-2 on lap, no charge, no reservation needed.  You MUST provide the Personal Floatation Device for children that weigh 25 pounds or less.
Whole boat reservation: $250, custom times or any scheduled cruise, as available.
Same Day Reservation:  additional $5 per party
See our cancellation policy at ptwtaxi.com
The Lake Sturgeon is not ADA accessible.
All cruises depart from the 4th Street dock.
Architectural Walking Tours:
July 20, 27, August 3 and 10 at 10:30am.  Our experienced architectural historians will guide you through the neighborhoods of Pentwater so you can see the style and strut that Pentwater homes have had for 150 or more years. Pam and Robin have given similar tours in Grand Rapids and Chicago to much rowdier crowds.  They have lots to show you here in Pentwater!
History on Hancock Street (Audio Tour):
Have you heard it? Our volunteer historian Ron Beeber has created a brand new Audio Tour. You can stroll down Hancock Street with ice cream in hand and hear the histories of each block. Call (231)720-0291 to start your tour.
Personalized Tours:
If you have a group vacationing in Pentwater we can schedule a private tour, strolling down Hancock Street or a guided tour of the museum.  There is no fee for these tours, but we do request a donation to the museum. Learn about Pentwater's history, and support the museum at the same time.
Check our website or Facebook page for up-to-date schedules and more details
www.pentwaterhistoricalsociety.org.
Email phs.tours@pentwaterhistoricalsociety.org with questions.
Walking Tour – Historic Pentwater and its Architecture
---
Join a free 90-minute guided walking tour of picturesque Pentwater, led by architectural historians. They will point out the varied architectural styles as well as recount early inhabitants & stories for homes and buildings in Pentwater, many of which date back to the
1860s. The tour starts and ends at the Pentwater Historical Society Museum (1st and Rutledge) and takes in the beauty of the historic homes on Pentwater's quaint residential streets. We also walk by civic and commercial buildings and sites representing the spirited history of the small village that began as an 1850s lumbering settlement.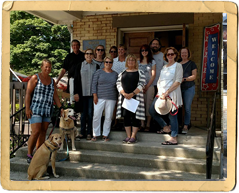 History Cruise
Our most scenic tour, the History Cruise takes place on the same watercraft that is used for taxi services and sunset cruises. Enjoy an hour on the water with our docent. Learn about the sites of various businesses and events that took place along the shoreline. See it all from the lake point of view. The cost is $15, required to cover the watercraft operating expenses. The one-hour tour departs from the water taxi dock at 4th street. See the Pentwater Water Taxi page on Facebook for the latest information on how to purchase tickets in advance to reserve your seat(s). Walk-ups are welcome if there is room.
History on the Green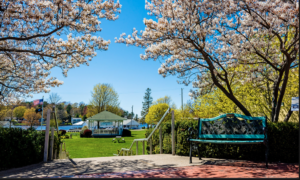 A seated narrative is available on the Village Green. The Village Green is the geographical center of much of the history you will hear. With a central view of the most memorable locations in and around Pentwater – the channel, Lake Michigan, Pentwater Lake, and the downtown area – you will enjoy the stories about the people and events near the lakes, up and down Hancock Street, and the surrounding areas. This one-hour, free session will meet near the pavilion. Feel free to bring a chair, or metal folding chairs will be provided.
History on Hancock
Take a stroll down Hancock Street exploring the earliest days of our village through the
millennium. Hear the stories and see the places where it all happened. To keep our youngest
participants engaged we offer a pictorial scavenger hunt for budding historians age 12 and
under. Let them match the photographic evidence to the proper location and story! The one-
hour, free tour departs from the Municipal Marina parking lot at Hancock & 6th St., and finishes at Hancock and 1st St.

How many shipwrecks lie off Pentwater?
Over forty shipwrecks have occurred along Pentwater beaches. None were more tragic than the 1940 Armistice Day sinkings, which drowned 59 Great Lakes sailors. On that black night in November, a storm with sustained winds of 80 mph, and gusts exceeding 110 mph, caught three massive steel lake freighters just off Pentwater.
The two largest, the Anna C. Minch and Wm. B. Davoc, sank with all hands. Nearby, a third freighter, the Novadoc, with 17 of its crew still aboard, was being slowly pounded to pieces by waves estimated to have reached 30 feet in height. Local fishermen carried out the rescue of the Novadoc crew and became national heroes. The Pentwater Historical Society museum has a collection of artifacts commemorating the storm and rescue