Especially for children and families!

---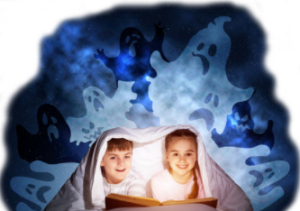 Bring your family for a night of entertainment and education. Experience thrills and chills while you sit back and enjoy the retelling of real-life ghost stories told by an esteemed storyteller. Sit around the campfire roasting smores while enjoying the scandalous history of Pentwater!

---
Our docent-led tours emphasize an interactive and inquiry-based approach to looking at and discussing the history of Pentwater, Michigan. Docents will engage your students by visiting several exhibits and discussing a selection of artifacts during the hour-long tour, so that students may have time to make quality observations, draw meaningful connections, communicate more deeply about local history and practice their critical thinking skills. If there are specific topics you would like your students to learn, we can design a program especially for you.

---
Discover everything weird, warped, and wonderful about Pentwater History on our unforgettable scavenger hunt! Complete the hunt and win a prize! Appropriate for children of all ages.

---

Visit the museum to experience an exhibit centered specifically around growing up in Pentwater. See the old toys, clothing, and games of days gone by. This exhibit is hands-on for children to enjoy.

---
Who wants to go to a place filled with old things you can't touch? Come to the Pentwater Historical Society Museum and play on the piano and old organ! We won't tell you to be quiet! We love music!

---
The new Museum was purchased in 2012 and is located at 85 South Rutledge in Pentwater.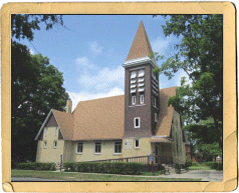 Our summer hours are June – August, Tuesday – Saturday 1 – 4 pm.
Our winter hours are September & October, Thursday – Saturday 1 – 4 pm
All subject to change if the COVID19 situation changes
Admission is Free – Donations are appreciated
The Museum is closed:
November through May, except for special events.
The Museum is available for private functions. Please contact the Museum staff to discuss your function.

---
The Pentwater Historical Museum Features
Guide by Cell provides narration for the many displays we have in the museum.
The recorded narratives include interesting anecdotes about Pentwater, its people, and landmarks. Guide by Cell is accessible inside the museum as well as anywhere in the world!
Dial (231) 720-0291 on your phone to listen to 54 recorded narratives that explain various exhibits and artifacts that are on display. Each recording is 45 seconds to 2 minutes in length.
~ Exhibits 1 – 18 ~
1. Remembering Ed Bigelow
2. Signs from Former Businesses
3. History Overview of Pentwater
4. Charles Mears
5. Pentwater Channel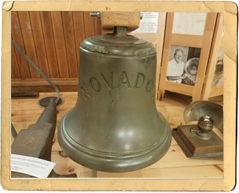 6. The Mary Stewart
7. Eldred Shingle Mill
8. Carrie Mears/History of Mears State Park
9. Map of Middlesex
10. Birdland Sign and Building
11. Furniture making
12. Shipwrecks/3 Vessels
13. U.S. Life Saving Station
14. Pentwater veterans audio interviews
15. Pentwater High School artifacts/yearbook/class photos
16. Original weathervane
17. Old pump organ
18. Native American Artifacts
~ Exhibits 19 – 36 ~
19. Henry Carter Johnson collection
20. Pentwater News Collection
21. Channel ferry
22. Swing Bridge
23. Train Depot
24. Hotel Valeria/White Elephant
25. Pentwater Yacht Club
26. Left-hand display cabinet in center of floor
27. Right-hand display case in center of floor
28. Native Americans in the Civil War/Company K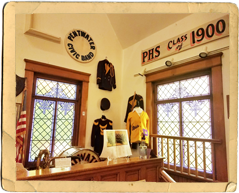 29. Nickerson Inn
30. Special Exhibit:  Tall Tale Postcards
31. Brickyard
32. Movie Houses
33. Novadoc Bell and Ship's Wheel
34. Undertakers
35. Commercial Fishing
36. Coast Guardsman Jack Dipert
~ Exhibits 37 – 54 ~
37. Pentwater Fire Department
38. Log Ladder from Model T Fire Truck
39. Steam Pumper Fire Engine "Oceana"
40. Cemeteries
41. Origin of Pentwater Community House/Hall
42. About Pentwater Community Hall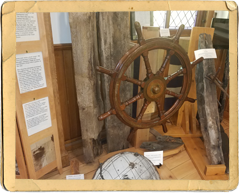 43. Large "Scrapbook" Display
44. 3 Hancock Street Hotels
45. 4 Lodging Businesses
46. Cabins and Campgrounds
47. Filling Stations
48. Two Houses on Green Street
49. Several More Stories About Native Americans
50. Thanks for coming
51. Dumaw Creek
52. William B.O. Sands/Home
53. Horse Racing in Pentwater
54. Pentwater Machinery Company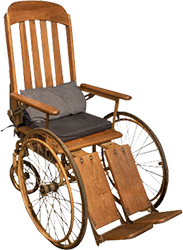 The Pentwater Historical Museum is wheelchair-accessible.
The main entrance to the Pentwater Historical Society Museum is on Rutledge Street.
The main entrance has five wide cement steps and a handrail on either side.
To the south of the main entrance on First Street is an accessible ramp leading to the main entrance door.
Two Handicap parking spaces are available on First Street in front of the ramp.
90% of the Museum exhibits are on the main floor with the remainder on a stage that is not handicap accessible.
A bike rack is near the Museum if you choose to transport yourself to the Museum via this mode of transportation.
Benches provide a resting place outside of the museum.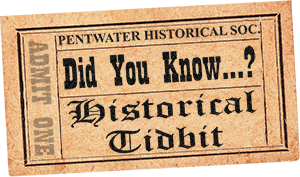 What happened in the fire of 1889?
The destructive fire of 1889 started in a cigar store on the West side of Hancock Street. Nearly all the stores were made of wood, and were only one story tall, and they all burned. The volunteer fire department had been formed on March 1, 1872.